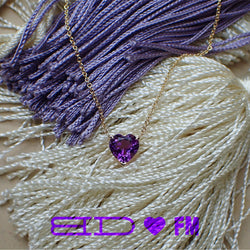 FITMAMA
The By Design X Fitmama Amethyst Heart Necklace - PREORDER
By Design Jewelers x Fitmama Apparel recent Collaboration will make you shine in an Array of Colors! 
We blended By Design Jewelers exquisite taste and attention to detail plus Fitmama Apparel colorful personality to bring you the new Amethyst Heart necklace in 14K gold. Purple is such an important color for me, because it represents Bravery, Wisdom and Spirituality. Layer it with the Spectrum Tennis necklace for a complete look.
This piece is made to order according to your neck specs, please double check neck diameter before ordering; the colored stone layout may vary slightly from the pictures. Production time is 4 -5 weeks..
Shipped and Insured directly from By Design Jewelers.